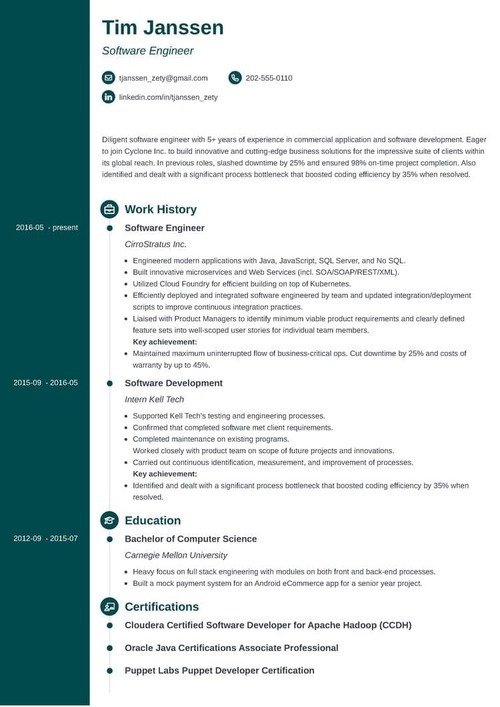 How to Pitch Yourself to an Employer
Step 1: Get your timing right. Plan to pitch yourself to the employers you want to work for as early as possible in your job search. By the time a role is posted online, it's already been publicized internally.
Step 2: Identify key players at the company, or employees who have decision-making power at the company and who can influence hiring decisions. Your goal is to get an information interview with them, as they can connect you to hiring managers (and their recommendations will not be ignored).
Step 3: Nail your informational interview. Ask questions about their experience at the company and how the job you are targeting fits into it all. As the conversation wraps up, ask if they will introduce you to a hiring manager
Step 4: Connect with the hiring manager. Send an email introducing yourself, expressing interest in their company, explaining the value you can bring to their team, and requesting a meeting.
Step 5: Follow up … but don't overdo it. Wait at least a week before reaching out again, and when you do, keep it short.
Step 6: Sell yourself. Assuming you do land a meeting with the hiring manager, use this time discuss your skills and experience and how you could provide value to the company.
Step 7: Don't be put off by a "no." Rejection is unavoidable, but don't mistake it for failure. Sometimes, "no" really means "not now."
Before becoming a news anchor, I received hundreds of rejection emails. There was one particular news station in Seattle that I wanted to intern for, and every summer, I dutifully filled out an online application and emailed my resume to their HR department only to be met with radio silence. When I realized this job-search strategy wasn't working, I followed the popular internet advice and took more initiative, emailing individual reporters at the company to inquire about open roles.
It was at this point that I decided I needed to try something different: Pitch myself directly to the news director. During a student scholarship ceremony, I was given that opportunity, and the following week, I interviewed and received an offer soon after. In that role, I worked with some of the best journalists in Seattle and built reporting skills that I could have never learned in a classroom.
Years later, that news director and I reconnected. "It's funny," he said, "in all those years that you were applying, your resume never made it onto my desk. You were a great intern though."
Although I was clearly qualified for that role, I wouldn't have been hired had I continued to follow the application process detailed on the company website. This is why I encourage students, mentees, and clients to proactively pitch themselves to employers, instead of reactively applying for jobs after the openings are posted online.
As part of the research I conducted for my company Career Survival Guide — which provides women and professionals of color with resources to help them succeed in the workforce — I interviewed a series of career counselors, educators, and early to mid-career professionals around this topic. I learned that many job-seekers (especially first-generation college students and students who are the children of immigrants) are hesitant to pitch themselves to employers out of fear that it will offend hiring managers or hurt their status as candidates.
1) Get your timing right.
"A lot of people will know about a job opening before it's even posted online," Lizzie Ann Jones, a former Fortune 500 recruiter, told me. "By the time a job description is published externally, the company is late in the recruiting process because the job has already been socialized internally."
During this time, the hiring manager and other team members are starting to tell their friends and networks about the opportunity, and potential applicants (including internal employees) are starting to express interest in the role.
Because of this, you should plan to pitch yourself to the employers you want to work for as early as possible in your job search, regardless of whether there are current openings that align with your skillset. More specifically, if you're applying to internship programs that require you to be in school, it's important to start applying months in advance. Otherwise, you might miss out on your window of opportunity.
Pro tip
If you're a college student who is looking to have a full-time job lined up, start reaching out to employers at least 12 months before graduation. Making the first move communicates that you're eager to work for them, and building that relationship will take time. Remember that hiring managers prefer to hire people who are not only qualified for a role, but who are also excited about it.
Follow-Up Email Right after the Interview
When to follow up after an interview?
What's the best interview follow-up email subject line?
How to follow up after an interview?
Sample Follow-Up Email After an Interview
Thank you so much for taking the time to talk to me about the position of [the position you're applying for] with [Company Name] this morning. It was a pleasure to learn more about your [innovative strategy / upcoming challenges / core values / industry insights].
The details you provided me with about the position convinced me that this is a job I would enjoy and one where I could make a valuable contribution with my skills and experience [refer to your specific area of expertise and how it can benefit your employer].
I was also thinking about what you said regarding [specific issue discussed during the interview]. In my last role as [your current or most recent position] I found that [data-backed explanation of how you would tackle the issue in question].
Finally, attached you will find the details of some of my projects we talked about. Please feel free to contact me if you find you need any more information. I look forward to our call next week as discussed.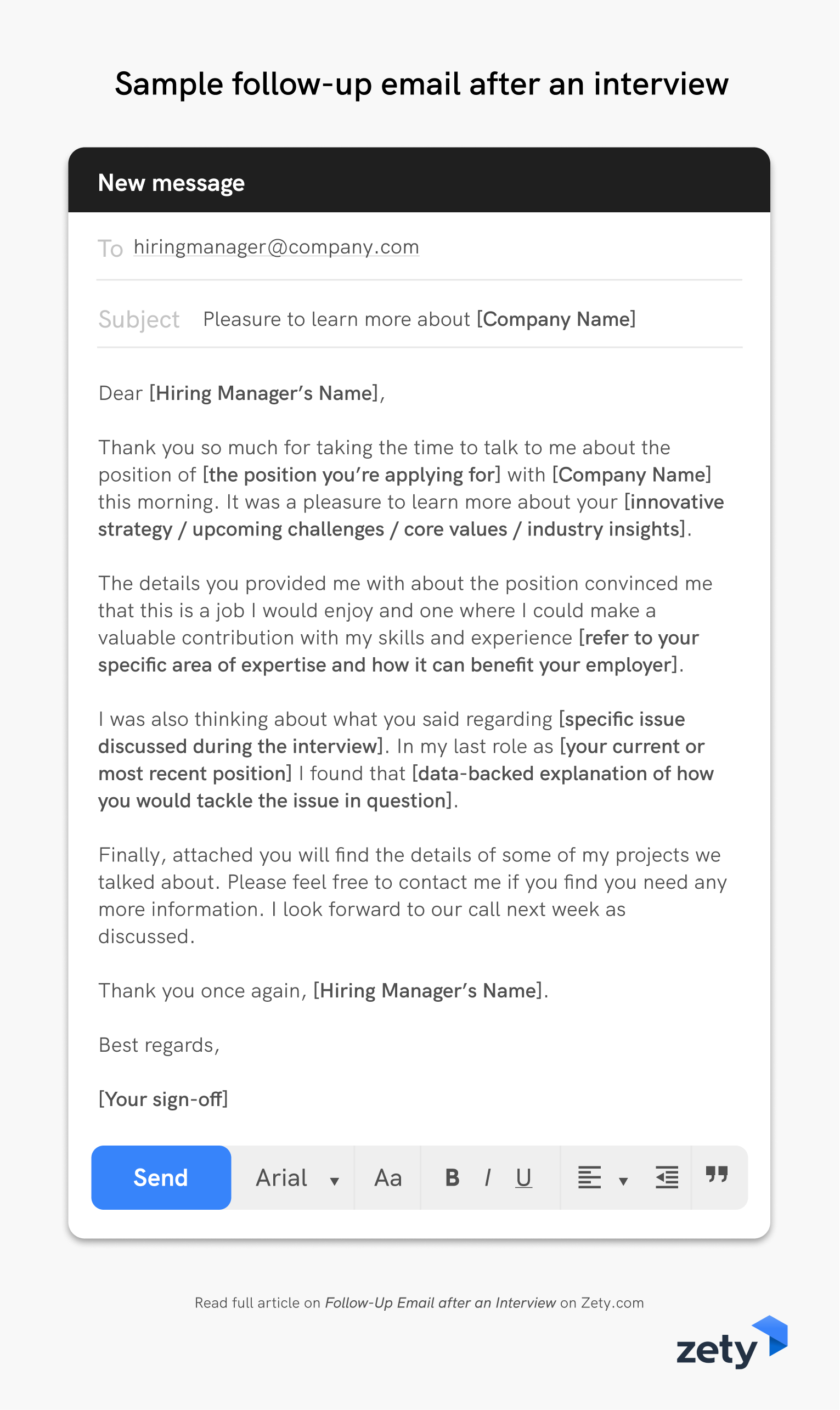 Out of all the stages of following up after an interview, this one's the most crucial. That's why we've put together a handy guide that explains how to make the most of it in full detail: Thank You Email After an Interview: How to Write One That Gets You the Job
How to Email Your Resume:
Write a brief description about yourself and the relevant topics as a cover letter. After writing the cover letter, try to paste the resume just below the cover letter (preferably a couple of lines later). Also, try to reformat the resume so that it can fit within the email. Also try to justify everything to the left. Moreover, before sending the mail to the employer, try to send it to yourself and to a friend and make sure all the information is present and none of it is lost.
Always follow the employer's decision:
It is always advisable for candidates to send emails as per the employer's preference. Employees usually disregard individuals who do not accept the employer's preference. If the employer is critical about sending the resume in the form of PDF, do not send your resume in word format, instead convert it into one. Moreover, if the employees say to include a cover letter, include that too.
Be careful of the auto fill option present in an email:
Usually, employees looking for a new job often end up sending their resumes to their present bosses. So as to prevent this blunder, try to create a dedicated email address for job searching.
Resumes should always be sent with a message or a statement of cause:
Always ensure and make sure that you write a small email message accompanied by the resume. The message should include the reason for which the email is sent, for what kind of post you are applying for and why you deserve the job and your skillset.
Refrain from using your work email :
instead of sending such messages using a work email, try to use your own personal email. It is not a good move to use your work address. Moreover, the companies monitor the outgoing emails that use the work id and moreover, it is not a good impression on the prospective employer.
Refrain using a spam blocker:
there are many spam blockers that do not pass emails that are not present in the address of the candidate. Moreover, most of these need to fill up a form online before sending or receiving such emails. This also results in the time for both the parties. So it is a bad idea, as you have to make the employer go to all these hurdles.
Send a test email:
it is better to send a test email to yourself and check whether the formatting is right in the received mail. Check whether the attachments are properly labelled and if they do open after downloading. Also, check whether the attachments are in the preferred format specified by the employer. Resend the message to the employer after you think everything is in place.
Other details:
always try to write the position that you are applying for as the subject of the email. Always include your contact information with your signature so that the hiring employer can easily contact you.
Do your homework:
find out when and how the company was founded and try to learn about the company objectives and who the company's clients are. Be sure to dig deep and find some really interesting facts about the company. Do not try to be forceful about anything, and try to state facts that are obvious about the company. The employer should feel satisfied with the resume.
Focus on the employer:
completely focus on the needs of the employer. Tell them how you can be a valuable asset to the company and can provide a profitable result to them. Try to persuade them on how you use your skillset for the benefit of the company. Just do not try to show off their talents.
Show respect:
try to show respect to the employer that you are writing the email to. Also use a formal language where your aim should be to be as brief yet detailed about your skills and personality. It's popular to add an edgy statement, but try not to overdo it. Saying things like "it is my forte", "jack of all trades", "Renaissance man /women", this makes the whole statement feel clichéd and might not impress the employer.
Be unique – but not too unique: try to be unique, but do not be too unique, so that you feel left out like a sore thumb. Be clever but not too clever, be concise in what you are. The company should be able to believe that you should be able to fit well into the work culture of the company.
Sample Emails Formats for Candidates:
Sample 1:
I am posting my resume as a writer for new found publications, which was recently posted on craigslist. I believe that I am suitable for this job, as I consider myself as a hardworking person. Also, I believe that I am well qualified for this position. I have attached my resume and my cover letter along with this letter. Kindly contact me if you have any difficulties in opening the attachments.
Sample 2:
I am posting my resume for the post of paediatric registered nurse in reply to the offer vacancy that you posted on your website. I believe that I am qualified and have the required experience for this job. I graduated from the University of Michigan and I am very eager for this job. I am attaching my cover letter and my resume along with this transcription. Kindly contact me if you have any difficulties while opening the attachments.
Sample 3:
This letter is in reply to your post on your website regarding the need for an instructional designer. Currently, I am a student at the city of penne and will be graduating later this year. I believe that I have the suitable skills, educational qualification and personality for the said job.
The email that you send resume is packed with your personal information. Always try to be as eye catching as possible, but do not overdo that aspect either. As the saying goes, "the first impression is the best impression", the same goes with email. Whenever you send an email containing a resume, do not expect to be sorted right away. Such an email could be your chance to show the employer the skills, communication skills, personalities etc.
Sources:
https://hbr.org/2021/07/how-to-pitch-yourself-to-an-employer
https://zety.com/blog/follow-up-email-after-interview